Formerly a general graphic and book designer, working closely with clients – writers, editors, artists, curators and architects.

His work has no particular style: each job acquired its own. For this reason no distinction is made between recent work and that which dates back several decades. His design aim is to engage the reader or viewer, and his experience as a printer allows him to exploit technical means in the interests of economy. The site shows a selection of work, list of clients, and bibliography.
He is best known for the design of Ways of Seeing, other books by John Berger and for his long-term relationship with the Whitechapel Art Gallery recorded in Richard Hollis Designs for the Whitechapel by Christopher Wilson, 2017. This also contains biographical material of which details also can be found in Who's Who.
*

Richard Hollis is now a writer and lecturer mainly on design history and is author of:
Graphic Design: A Concise History, London: Thames & Hudson 1994, 2nd enlarged edition, 2001 (also in French, Spanish, Portuguese and Chinese)
Swiss Graphic Design: The Origins and Growth of an International Style 1920–1965, London: Laurence King (UK), New Haven: Yale University Press; and as Schweizer Grafik, Basel: Birkhäuser, 2005

Avant-Garde Graphics 1918–1934, London: Hayward Gallery, 2004 (with Lutz Becker)
About Graphic Design, Occasional Papers, 2012, revised 2017
*
Richard Hollis's most recent book is:
Henry van de Velde: The Artist as Designer, published 2019
*

He has also edited, designed and published books not on design subjects under the Richard Hollis and Five Leaves imprint:
Daniel Huws, Memories of Ted Hughes 1952-1963
Susan Alliston, Poems and Journals 1960–1969, with an introduction by Ted Hughes
Lucas Myers, Essential Self: Ted Hughes and Sylvia Plath, a Memoir
Daniel Weissbort, Ted Hughes and Translation
Romek Marber, No Return: Journeys in the Holocaust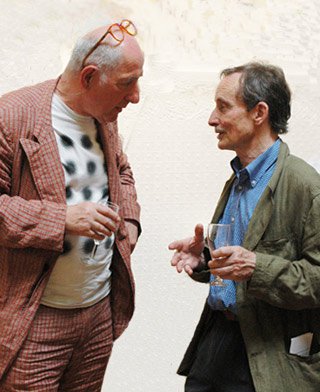 The designer Karel Martens in conversation with Richard Hollis, 2006. Martens was director of Werkplaats Typografie, where Hollis lectured in December 2000. Photograph by Martin Argyroglo.
Website designed and produced at Polimekanos
by Joseph Kohlmaier and Shoko Mugikura